SSDD
January 18, 2010
Here's a link to
the page preview
. Only one page in the chapter after that.
Don't forget that What it Takes starts up on Wednesday. Buffer. Yay.
And before anyone asks about the details of the computer issues, just please, don't. Already spent hours on the phone attempting to fix it. My lappy was seven years old. It was its time, and this little, innocuous thing just pushed it over the edge. Don't want to talk about it anymore than that BECAUSE IT MAKES ME VERY ANGRY.
Chapter 8 Page 40
January 10, 2010
SpiderForest, the wonderful place that hosts this comic, just accepted 5 new members! Please check out their work!
Planes of Eldlor
Lint, and a soon to come comic by Colby!
And Freelance!
Today's Page
Hmm. The novel version of this scene was so much more violent, and infinitely more difficult to draw. I may rearrange the word balloons in the first 3 panels to better show Dren fainted, but later. Must do school work first.
Otherwise, it's really only the last page in this chapter with anything too significant, so I can't wait to get to it. Only 2 pages left until Chapter 9. FINALLY. I have so been looking forward to this. I hate this page and how school is affecting my ability to draw worth anything, but I think switching gears in the storyline will be of real help and inspiration! At least, I hope. The semester starts up today. Going to be getting to bed late, and getting up early to attend a radiation safety seminar...for 3.5 hours. *sigh!* I really love DOING stuff, but learning about NOT doing stuff as my bum gets numb in desks better left to the 70's just makes me pissy. And no one wants to work with a pissy Kez. Pissy Kez is violent. Just ask my car. A button got stuck and so I hit it...and then I broke my dash. Palm strike to the nose of an assailant, Kez, not the car! MY POOR SPARHAWK.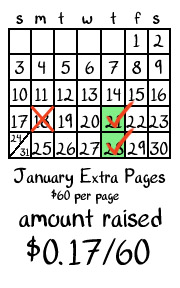 Less than FOUR dollars to go until another extra update! This chapter could come to a close next Thursday if a few people were so inclined to buy anything. Check out the recently redesigned store page! There's a bunch of different merchandise up there, as well as the digital wallpaper for sale for $1.50!
What it Takes starts up NEXT WEDNESDAY! I finished the site and all the extra content last week, so there are four preview strips up to read as well as teasers on the other pages. THIS STORY IS RATED R FOR LANGUAGE AND VIOLENCE. I don't want any angry moms emailing me, so if you're under 16, do me a favor and just DON'T go there, and if you're 16-18, TRY to ask permission, ok? My life is stressed out enough. I don't need YOUR parents on my back.