Chapter 8 Page 39
January 3, 2010
On the Comic...
OH NO HE DIDN'T.
Occasionally I get to have a little fun with this comic. It IS a comic after all. Doesn't ALWAYS have to be completely serious. And yes, I consider kicking in a door and scaring the hell out of a drunk, sleeping man hilarious. Then again, we all know I'm very strange. Dren (the innkeeper) has it coming. He was a total jerk to Talon and Vrin when you met him at the beginning of chapter 6!
And hmm, the Vrin/Ravar dynamic is morphing a little bit more, isn't it? Anyway, I'm not a fan of the lighting in this page, but I do like the SLAM panel. Poor Talon! The kid just can't catch a break! And I enjoy beating him up it seems...Huh. VERY much looking forward to no longer having an unconscious character.
Extra Pages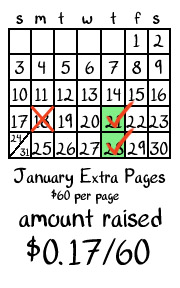 You guys are SUPER close to an extra update again! I overhauled the store page yesterday, and there's now a bunch of new merchandise, all shipped by ME! Yes, that's right, I have all those T-shirts here at my apartment ready to go for 5-6 bucks less than you'll find on Cafepress or Printfection. There's also the Not Alone book still, and the Not Alone epilogue not available in the online archives, AND a new wallpaper for January featuring the East Wind! It's currently on my own desktop, and looks realllllyyy perty. For only $1.50, and available for January only! After that, it's gone!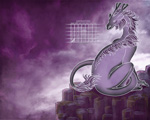 Blather and Etc
Still having a bit of trouble remembering that it's 2010. Today is just the day after yesterday. My concept of time is unfortunately completely relative to my current position. I hate dates. I have issues remembering how old I am. I actually have to COUNT. And I'm rambling again. Ok. *pulls self together*
Those of you who follow me on Twitter have probably heard by now that I've been working in a lab here at Roswell Park Cancer Institute as part of my Masters program. So far, it's been extremely cool. I expected to be way more bored than I am, and am happily surprised. I get EASILY bored, guys. You have no idea. I basically bombed my Immunology final because the questions bored me. I mean, c'mon, I studied for 15 hours. I had that stuff DOWN. And yet, I got the test and filled out all the semi-interesting questions...then just STARED at the boring, completely non-creative ones for about 30 minutes. Didn't write a THING. I knew the answers for the most part...I just couldn't make myself give a shit anymore. I nearly broke out laughing at the things I wanted to draw in the spaces instead...like a graphic depiction of my BRAIN PUKING ON THE PAPER. This art stuff is ruining me, I swear. But anyway! The lab. Yes. Very cool so far. I get to DO stuff. No memorizing out of a freaking text book techniques I won't ever use. I get to USE MY HANDS. I am so very sick of shoving stuff in my brain I won't use, especially when that stuff isn't even interesting. If I wanted to be a walking dictionary I'd...do something else. But not this! I really hope the next semester isn't so very mind/butt-numbing.
In the meantime though, in the lab with my super awesome PI, I get to work on a dual monitor set up (having been trying to save up for a personal one forever, but biiilllls D:), and he let me install my tablet so I can draw and stuff when stuff is running AND he lets me listen to my music. It's like a little slice of heaven in there sometimes. When I'm not screwing up and stuff!
My semester starts next Monday, and I'm totally miffed. Winter break never even happened for me. I had planned it that way kind of, getting used to the lab during my break so I wasn't freaking out getting oriented there during classes, but I just didn't expect it to go so fast. I've barely had time for any comic work. I'm glad it's snowing lots here because it gives me an excuse to NOT go outside.
Speaking of comics, What it Takes, one of my next 2 comic projects, starts updating January 20th! It will update Wed/Fri at first, and hopefully M/W/F as soon as I can get a bit of a buffer done. There are four strips up on the WiT site, so go check that out! This story has NOTHING to do with the War of Winds, but it has one kick ass female lead I think you all will like. The setting is on an alternate earth, 6 years after everything falls apart. More will be revealed as the story progresses!
My other comic project will be updating Thursdays as soon as I get a bit of a buffer for it done! From Earth to Heaven is an origin story like Not Alone, but will be in color! And takes place in a city. Near an ocean. And...it's just way different, but still an origin story!
So once these 2 comics start updating, you guys will have stuff updating five times a week! Cool, right? Busy Kez is busy.