Chapter 8 Page 38
December 27, 2009
Cameo alert!

Joining us for a page are Claudius and Xylia from Xyliatales! There ought to be a few more cameos coming up soon, bwah hah hah!
Did you miss Thursday's extra page?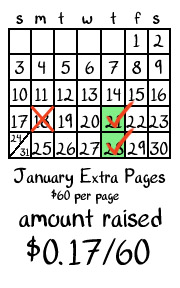 Go back one page if you missed it! The meter has rolled over for January pages too. There are still a BUNCH of drawings for sale. Email me at warofwinds@gmail.com if you're interested! If four of those sell, that's another extra page. And don't forget that everything on the store page counts as well, including the Not Alone books (I got a different batch, and they now cost $8.50 instead of $10 +$2.50 shipping! Trade-off is lower quality paper, but they are still nice!) AND there's also the digital, colored, version of the Not Alone epilogue, also on the store page.
On Today's page
I'm moving this on because I really did not want to draw 2 transition pages. I would have liked to give you guys 2 pages worth of "travel," but really, I thought you'd appreciate a faster pace more. I know I do. I want this chapter DONE. Argh.
I must say though, it is SO NICE not to have to draw that damned staircase anymore. No more marble walls or bookcases. This chapter taught me a LOT--mainly, do not ever choose a setting that gives you migraines to draw. But holy freaking grief, the last time I drew this place was on THIS page, over 2 years ago and EXACTLY 100 pages! Daaaaamnnn. That was even before I got my tablet!
Also, funny of funnies, it has been the SAME NIGHT for those 2 years as well. My update frequency is so freaking pathetic. As of the end of this chapter, this night is over, and the scenery changes completely. Cannot wait to draw some nature scenes after being indoors or in a city for 2 ye--I mean, 1 night. Or something.
Anyway, this chapter should be over in, oh, 3-4 more pages now. By the end of January! I'm super excited.
Resolutions
So...new years is coming up! Last year, I used the FutureMe.org service to write myself an email and have it sent a year later. Well, it came a few days back and I'm kind of afraid to read it. Still haven't. Life is strange. I had hoped to accomplish much more than I have this year, but instead I've kind of gone COMPLETELY off track. I hoped to be in medical school, ended up in a Masters program. I'm not complaining, mind you, but it still feels like a set back. I love the program I'm in, and the people I'm in it with. I'm starting a research project which is very cool, but so very different than what I'd love to be doing. I've moved out of my parents' house, kept my dog, am trying to find a new home for my iguana, haven't been able to do martial arts for 4 months and just...wow. Life changes.
The whole saving up for a new computer thing never happened, I think I have about 30 cents in my savings account...ha! This new "bills" thing is just so wonderful. I'd rather be poor and work for myself any day though, than give up that freedom for a steady paycheck. Really makes you appreciate what you DO have anyway.
This coming has some new things in store as well! Two new comics of mine will be starting up, and both the sites are already complete if you want to check those out. What it Takes will start January 15. It will start with 2 pages a week (Wednesday and Friday) and I'll work that up to 3. From Earth to Heaven will start at the end of January, and will update on Thursdays. So, you guys are looking at updates site-wide 4 days a week!
I'll open my email and post it here on New Years Eve. We'll see how well I really did over 2009. Looking forward to 2010 though...Year of the Tiger, MY year. Booyeah.
All the best, guys. Happy Monday.