Chapter 8 Page 37
December 24, 2009
Merry Christmas and to all a good night!
Oh wait. Gotta post the blather first. I want you all to know that you guys got what you paid for. This was the one extra page earned for December by the 2 WONDERFUL people who bought 4 of those drawings I have for sale. This page took forever to ink and color, and I was racing to get it done amidst my first week as the lab's newest beeeetch. I say that lovingly...in case anyone from the lab is reading this....DON'T DROP THE SOAP, KEZ. Also, learn faster, so you don't come across as a total moron. Anyways, the reason this page was late was because I was in the lab, workin' away, for hours everyday. Somehow I'm going to have to juggle that with classes starting in 3 weeks and subway tickets I don't really have the money to pay for. Time to invent a time machine, my friend. Also, invisibility cloak. Good thing I enjoy the MacGyver approach! Here, duct-tape! Here boy!
For those of you who don't give a truffle about the life of this here artist/scientist-person, this is the final page Ehranah stars in until chapter 20-something! I am going to miss her. She's one bad-ass lady, I tell you. I will NOT miss drawing her outfit, however. I try to keep "costumes" simple enough to draw many times over without throwing things at the wall, and hers was the most complicated to date. But hey, she looked nice! At least, I think she did. She had to pull off the in-charge, beautiful but not focusing on it, capable lady-warrior without coming across as lesbian or a bitch. That can be very hard to do!
And of course, the final thing she had to say had to be cryptic as hell. Ravar is probably thinking, "WTF? First you yell at me, save my ass, then give me a riddle? This sucks!" Then again, Ravar already knows something is off with Vrin. Anyone care to guess what the "red" color really means? Figure that out, and you figure out something else!
Chapter 8 is over in about another 4 or 5 pages. I think I'm going to make it 5, because I like to end chapters on an even number.
And now, the most awesome Secret Santa this comic has ever received, from Mary of fellow SpiderForest comic Avernyght!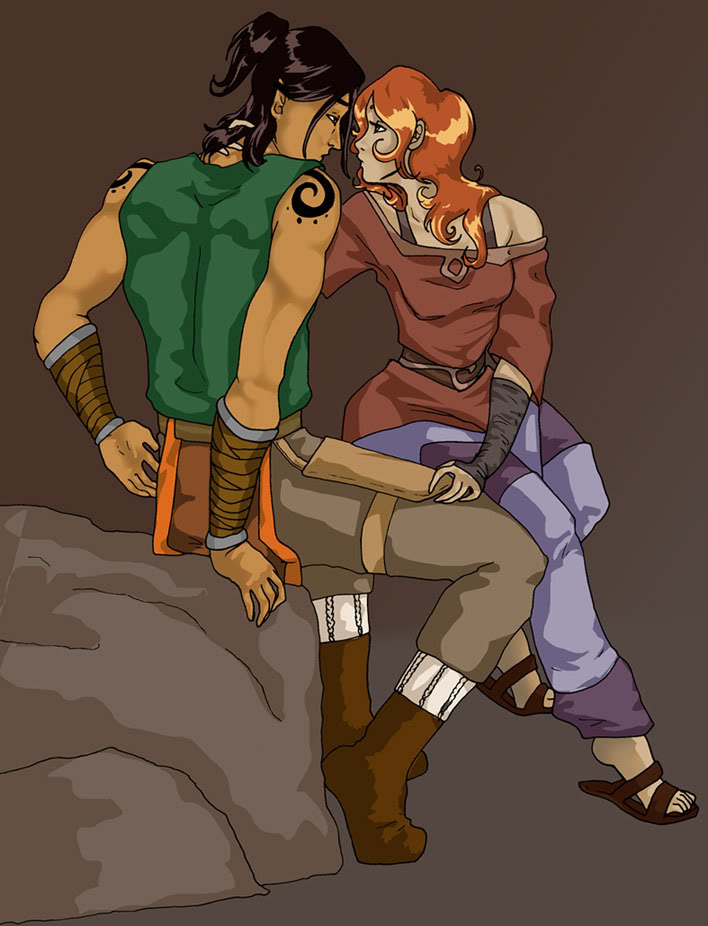 WILL IT HAPPEN?! MAYBE?! SOMEDAY?! Evil, bad, naughty Zeut!