Steel City Con Report
December 7, 2009
Anyone here interested in attending a con as a seller may find it interesting. Everyone else...there are great pictures! Here are the great people I met, please check out their sites! I wouldn't link them if they were not the shizzle:

These guys (and girls, I know there were a couple) are without a doubt, the most awesome group of Imperial Costumers (as in, Star Wars) of all time. I'm still not quite sure how it happened, but we made friends with "Fluffy" the Biker Scout and kind of were strangely adopted by this group. Somehow we got invited out to Don Pablo's with the gang, where surprise of surprises, Peter Mayhews, "Chewbacca," the guest of honor of the convention was ALSO the guest of honor at the dinner. WOW! So cool! The guy is fer-reaking tall, but totally nice! I didn't talk with him at all, but damn, the troupe was on a first-name basis with him. Again, WOW. I was like, 15 feet from him the whole night. Ok, Kez, enough celebrity worship. You're not even THAT in to Star Wars!
The 2 women in this photo are 2 Iron Sirens, also guests at the con, and are not affiliated with the 501st.

These guys are TALENTED! I have never laughed so hard in my life as when "Jack Sparrow" strutted down the isle. The mannerisms and costumes of the entire gang were SPOT ON. And the props! DAMN! Awesome all-around.
There were very few indie comics at this con other than our group, but the most memorable of the rest was definitely Motorcycleboy! We met Sheila, her hubby and the writer Billy, and made fast friends. If you're up for a gritty, realistic, poetic graphic novel done with traditional art, MCB is the comic for you! I have a copy now myself. WHEE!
This hilarious and marvelously talented artist was at the table to my right! Kevin had some of the most beautiful illustrations I've ever seen for Marvel and DC heroes. If you are looking for some fabulous artwork, check him out!
Did I mention yet that I was completely out-classed by the tables surrounding me at this convention? No? Well if Kevin's work wasn't evidence enough, behind us sat Sean and his buddy (whose name I never got! EEP!) Sean is a master of colored pencil and ink portraits of celebrities, including Star Wars, Star Trek, Harry Potter, LotR and more! He gave me two AWESOME pictures of Indiana Jones, only my favorite movie hero of all time! (I named my dog after him, y'know!)
These guys had the most awesome booth set up EVER. I'm talking specialty gaming tables and chairs, TV's, a digital set up for the artist....just...wow! I'm not even into table top card games and the like, but these guys had the best looking cards I've ever seen! The art was top-notch, way better than I what I usually see! I got to talk a lot to Yoshinori, an artist who did a large chunk of illustrations for the first card set. Got to watch him paint in Photoshop. OMG, made the scrawling I do look like sidewalk chalk art by 5-year-old. Dave is also as big a Stargate as myself, and I wish him the best in the Air Force! (AVOID NORTH DAKOTA!). Chris and Daryl were phenomenally cool, and it was great to hang with them at the bar. I cannot believe I didn't nab a picture with them, or at least me fawning at Nori's feet, begging for tips.
Tod sat right behind my table on the other isle in this convention, and is also affiliated with the 501st! Tod does sketch cards for comics like Iron Man and X-men, as well as some absolutely fabulous portraits. His art is totally stellar. Had I the money, I think I would have bought him out. He's trying to sell some Iron Man 2 cards, details up on his DA page (click his name). Help an artist out, eh?
Chapter 8 Page 34
December 6, 2009
I am so tired after the best worst convention ever, so I'll save the con report until tomorrow and will post it on the studio blog. This week, you can vote on TWC for
a picture of me being choked to death by none other than Darth Vader
!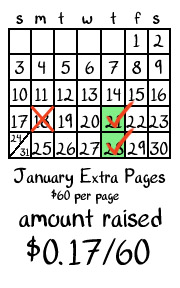 That meter keeps making it's up way up! There's a lot for sale this week to get you that second extra thursday update this month. All the inks are going for $15 and all the sketches for $8. Email me at warofwinds@gmail.com if you're interested in purchasing one! All proceeds go towards extra pages.
Beer Belly Viking

My Girl

Shootergirl

Swirly

And these 6 are still available! Click the image to see the zoom view!

If $15 is too steep for you, How about the December Wallpaper Calendar, featuring An'soru, the South Wind? It's $1.50, and this goes towards extra pages as well. To buy, click the picture at left. Upon purchase, you will be forwarded the page where you can download different sizes! If it doesn't work, email me and I'll send it personally. :)
There's also the colored epilogue ending to Not Alone, a side-comic of mine I finished earlier this year. If you haven't read it yet, it's just under 50 pages and features characters that will be introduced in Chapter 10! The colored epilogue is available for $3.39. Purchases of this will now ALSO go towards extra pages.

On Today's Page
In brief, you guys get clued in that not everything is well back on the Ayenroki homeland. The Triad knew that, and Ehranah thinks that if Ravar returns, they'll use him to try to help stabilize things. As for the "as you are" line...let's use our powers of observation. Mersnai already mentioned it...Ravar HAD it back for a little bit within Talon's mind...before it vanished again.
Aw heck, just wait for the next page if you are lost as to what I've been alluding to. :P
And now, bed. Been a jam-packed weekend.