Chapter 8 Page 35
December 14, 2009
This was a miracle page and there was no way it SHOULD have happened considering. Vote on TWC for
a sketch of the next page
!
WARNING
The extra page scheduled this Thursday may have to be pushed back to next week, I am SO sorry. When I scheduled the dates it was possible for me to spend extra time comicking, I only took into account the end of the classes, not the end of FINALS. This is my finals week. If I can't do it this Thursday, it will happen next Thursday. Don't kill me! Any paid-for pages WILL happen. I will probably throw in an extra free update because I feel horrible about this.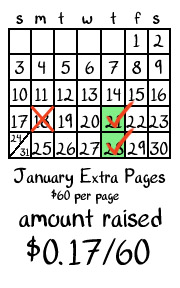 Speaking of pages, the meter is getting higher! There's a lot for sale, including sketches, inks, books, epilogues and wallpapers. All the inks are going for $15 and all the sketches for $8. The Not Alone books are going for 8.50 (+2.50 shipping) since Ka-Blam can no longer print on the nice, thick stock. Email me at warofwinds@gmail.com if you're interested in purchasing anything (I have yet to fix the price on the store page)! All proceeds go towards extra pages.
Beer Belly Viking

My Girl

Shootergirl

Swirly

And these 6 are still available! Click the image to see the zoom view!

If $15 is too steep for you, How about the December Wallpaper Calendar, featuring An'soru, the South Wind? It's $1.50, and this goes towards extra pages as well. To buy, click the picture at left. Upon purchase, you will be forwarded the page where you can download different sizes! If it doesn't work, email me and I'll send it personally. :)
There's also the colored epilogue ending to Not Alone, a side-comic of mine I finished earlier this year. If you haven't read it yet, it's just under 50 pages and features characters that will be introduced in Chapter 10! The colored epilogue is available for $3.39. Purchases of this will now ALSO go towards extra pages.

On Today's Page
My, was that a back-handed compliment, Ehranah? Pfff. Also, she tossed him a hair tie. 'Cause he lost his a while ago in the fight. Also, YES, that is a pile of glowing ashes. Everyone say bye to Cenron because he's NEVER COMING BACK.
Sorry for the short notes on the page. Gotta get to bed!