Chapter 8 Page 33
November 30, 2009
Holy whoa, it's almost December. What a year!
Vote here to see the sketch of the next page
. As a reminder, you can vote for as many comics as you want everyday, just once per comic PER day.
The December Extra Page Pot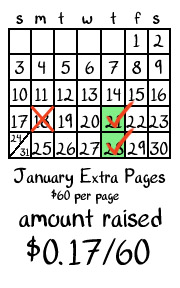 It's getting fuller! If you would like double updates in December, I'm not accepting donations, but if you buy some artwork, I'll put it towards extra pages starting December 17th, which is already scheduled! The cost is $60 per extra page, which is about $4/hour. The artwork is $15 and up! Here's what's available, click to make it bigger.
If you're interested in a piece, email me at warofwinds@gmail.com with the name and I'll send you an invoice you can pay with Paypal or any accepted card.
If $15 is too steep for you, How about the December Wallpaper Calendar, featuring An'soru, the South Wind? It's $1.50, and this goes towards extra pages as well. To buy, click the picture at left. Upon purchase, you will be forwarded the page where you can download different sizes! If it doesn't work, email me and I'll send it personally. :)
There's also the colored epilogue ending to Not Alone, a side-comic of mine I finished earlier this year. If you haven't read it yet, it's just under 50 pages and features characters that will be introduced in Chapter 10! The colored epilogue is available for $3.39. Purchases of this will now ALSO go towards extra pages.

On Today's Page
Ehranah is drawing a fine line here, but I gotta defer to her judgment on this. The Key provided the rope back out after Ravar bumbled his way inside Talon's mind page in page 18. The rope, if you'll remember, represented Ehranah's point of entry and her way out. Ravar, as the anchor, maintained that point of exit. When Ravar came in (at the Key's bidding, Ehranah admits), the rope vanished and then reappeared. When Ravar decided to Shatter the memory instead of burn it away, as Ehranah wanted, well, "bad shit happened." Ehranah admits here the rope was destroyed. There was no way out when Ravar did that, and they both were caught in the collateral.
The question then becomes, did the Key intervene to make Vrin call them out, expressly against Ehranah's orders? Or were her actions completely independent? Is the Key strong enough to affect events even when its Host is so close to death? Questions, questions, and more fine lines. Ehranah says no, and that they both owe Vrin their lives. Ravar is beginning to agree, and isn't happy about it. Hah! Stupid move, punching the wall with his injured arm. When you're that pissed and need to let it out, sometimes the best way is to make it hurt as much as possible. Anyone else out there kick a cement wall or tree after stubbing a toe? I have!
Next week's update is already done. Whee! My first buffer ever. Working towards getting that extra page on the 17th done early. Finals. BLAH.