Chapter 8 Page 31
November 15, 2009
Well. Forgot to change the date on the comic file. Some of you were treated to an update 1 day early! Go me?
Notices:
Vote at TWC for a sketch of the next page!.
EDIT: I am happy to announce that due to four purchases of the inked drawings, you all will be treated to an extra update Dec 17! "Squirrel" just sold yesterday, but "Blood Knives" is still available, and I'm making more. There are 2 other extra update days in December still available, so keep buy folks! It helps me as a grad student pay my bills and afford the time I put into this hobby you all are enjoying!
Squirrel: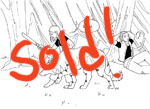 Random Guy With Bloody Knives: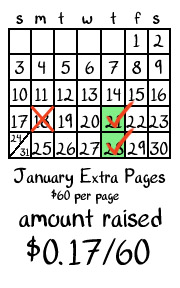 If you are interested in either, email me at warofwinds@gmail.com with the name of the piece, and I will send you an invoice through PayPal [that you can pay with a card if you don't have an account]! Whoever emails first gets it. It's a chance to not only get an inexpensive, original work of art, but also get extra pages. Click the meter to read more about this plan of mine. :3
On the Page:
I think Ravar is hedging a bit here. But that's just my gut feeling. This "separation" of the mind he's talking about is a bit like conscious and subconscious. They are two distinct entities, and should not mingle. When Ravar shattered that barrier, sure, it saved Talon's life, but that may be just about it. Yes, Talon COULD be a vegetable the rest of the comic! (Vegetales crossover, anyone?).
Okay, yeah, I'm willing to admit that's obviously not going to happen. Major characters have to, uh, be able to be characters. So obviously, Talon is going to get better. Errr, a BIT better. There was some major damage done, of course! As for the whole "speaking Ayenroki" bit, got to wait for the next page! Which, I'll remind you again, you can vote to see! *points up*
Other News
I will be attending Steel City Comic Con in Pittsburgh, PA on December 4-6! I'll have Not Alone books, posters, T-shirts and some original drawings. If you're around, stop on by! I'll be hanging out with the creators of Garanos, Taka Comics, Bardsworth and The Cow Comic! 'Cause we're awesome. And stuff like that.