Chapter 8 Page 32
November 22, 2009
A lot of news this week, please bear with me! First, you can
vote for the sketch of the next page!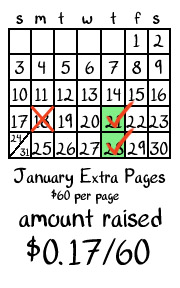 Second, there will be an extra update scheduled for December 17th thanks to the purchases of FOUR original inked drawings! If we can raise another $60, there will be another extra update December 24th, which means we'll get nearly to the end of this chapter by the end of the year. I don't know about you, but damn, this story moves so slow at one update a week! There will ALWAYS be that one update a week, but as a student always strapped for money, I can't put more work into a project that gives so little back! So, if you want extra, it'll happen, but only if you help me offset the time I put into this with food in my fridge. At $60/page, that's about $3-4/hour, for anyone fallaciously thinking I'm charging some outrageous price here. Click the meter to read more about this drive for extra pages!
For sale this week, I have FOUR things. First off, and this poor guy has been up for awhile, "Random Guy With Knives," for $15. Random guy really isn't so random, he's actually from the prequel to this story, and his name is Sett. He's a jerk, but is totally ace with knives. He and Husafaru ("Faru"), his wife, are the main characters in the prequel. Didn't think anyone really cared or needed to know about Sett just yet, but stories seem to help people want the piece. To read more about Sett and Faru, check out this post from way back when in the forum.
Next up, two pieces featuring the main character in another comic I'm starting up called What it Takes. This is Colbey, a martial artist who survives the end of the world. She's got grit and spunk, and she's searching for her fiance who she lost before everything went to shit. This comic will be starting in early 2010 as soon as I complete a nice buffer. The first five strips are available to read here! And the site design can be seen on my DA!
First up for Colbey is titled, "Crap." This one I spent a LOT of time on...can't really remember the last time I did any stippling. Anyways, due to the time that went into this, "Crap" is for sale for $25, not $15! She's an endearing girl, despite the price tag. I'm a little loathe to give this one up! I really think you guys are going to like her. :)
Second up is titled "Double Crap." Poor Colbey, always wading through swamps, getting chased by gangs...and being circled by alligators. This one is $15!
The last inked drawing for sale is of an Ayenroki of Clan Fray! These guys have markings like black and red tigers...in reverse. Here one of them is making a giant fireball. Whee! Funtimes in Ayenrokiland. "Fire in the Spring" is for sale for $15!
If you are interested in the piece, email me at warofwinds@gmail.com with the name of it, I will send you a paypal invoice you can pay with an account or with any accepted card, and I'll mail it to you all nice and protected in a large envelope.
The final thing for sale is something new I'm trying out: digital wallpaper calendars. I'm ALWAYS hovering over the blasted time in the bottom right corner to find the day's date. I'm sick of it. Calendar ON the wallpaper. This wallpaper is for December, it features An'soru, the South Wind. Since the next chapter features three of the four winds, I thought it might be fun to a series on all four. It's available in 6 sizes for $1.50. Here's a preview. To purchase, click on the button below!
Remember, all wallpaper purchases go towards extra pages as well!
On the Page
Phew...finally, this section. Yeah, sorry about the length of the above. Got bills to pay, and comics CAN make money. If you like, consider the purchase of something as...a movie ticket. The time and money has already been put into MAKING the thing. You are enjoying the fruits of the labor, and off setting production cost. ANYWAY!
I'm not quite sure if this page comes off as intended. Vrin's look, for example. Is she suspicious of Ravar's explanation? Or is it something else? That will become clear in time. If Ravar is right, I wonder what else was stuck in Talon, or perhaps, what of Talon was lost in Ravar or Ehranah? Makes sense that kind of thing could go both ways. Perhaps both Ayenroki will suddenly develop a need to drink to excess and be complete jerks! Well, hmm, actually Ayenroki probably already have the second half down. :D
The vote incentive (the sketch of the next page) will also make the final panel a little clearer. Ravar still got some 'splaining to do! Tsktsk. And where the heck has Azaq been?!
Conventions!
I will be at Joe D's WNY Toy, Comic Book and Collectibles show in Buffalo, NY on November 29th! I will ALSO be at Steel City Con in Pittsburgh, PA December 4-6! Come see me, and I'll draw a free sketch!
That's all from me! I think it's more than enough to chew on. I leave you with: buy stuff, and get more pages. If stuff is bought, I don't feel bad turning down commission work to do what I love doing, because I'm paid to do it.