Chapter 9 - Still Alive - Page 11
December 13, 2010
I have been waiting since day 1 of this comic to draw these flashback scenes. Not nearly enough scenes take place on giant rocks in the middle of an ocean. I'm a scenery junkie, ok? And besides...we haven't seen the kid since...well..forever. Vrin gives a bit of a re-cap, and doesn't sound all-together convinced herself. Rrah'ashi, if you forget, is the name of that cool "magic" Ayenroki can do. COUGHSCIENCECOUGH. I mean...uh...ahem.
There's a super easy contest going on in the forum right now! Whoever posts the 5000th post gets a free commission from me! Details here. As of today, the total post count is 4685.
What it Takes is saving up for extra updates in January! Donate $20 or more and cover an entire page, and I'll send you a complimentary, personalized Issue 1! If you're interested, you can donate via the Chip-In in the sidebar beneath the comic on the What it Takes page. If there's enough interest here, I'll start a Chip-In for The War of Winds, but each page here is $60. Boils down to minimum wage, meh.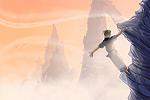 Anyway! The December wallpaper is available in the store for the painfully low price of $1.50. It features Colbey and Peter (From What it Takes) having a tender, smack-talk, moment on a park bench. This wallpaper will only be available until December 15th, and then it's gone for good!