Talon the Fool
November 29, 2010
Hey all! As I announced last week, I am taking this week off from comics. I have end of the semester assignments to finish and then I'm out of town for a few days to sunny Galveston, TX, for an interview. So, suffice it say, time is scarce this week. BUT! You are not left with nothing, because the oh-so-awesome Mary Sneddon of
Avernyght
has continued on her Tarot theme of tWoW characters, producing The Fool. I certainly hope you all remember her previous card, Strength, which is now up in the
gallery
.
Pulled straight from wikipedia, here's the symbolism of the card:

"The Fool is the spirit in search of experience. He represents the mystical cleverness bereft of reason within us, the childlike ability to tune into the inner workings of the world. The sun shining behind him represents the divine nature of the Fool's wisdom and exuberance, holy madness or 'crazy wisdom'. On his back are all the possessions he might need. In his hand there is a flower, showing his appreciation of beauty. He is frequently accompanied by a dog, sometimes seen as his animal desires, sometimes as the call of the "real world", nipping at his heels and distracting him. He is seemingly unconcerned that he is standing on a precipice, apparently about to step off. One of the keys to the card is the paradigm of the precipice, Zero and the sometimes represented oblivious Fool's near-step into the oblivion (The Void) of the jaws of a crocodile, for example, are all mutually informing polysemy within evocations of the iconography of The Fool. The staff is the offset and complement to the void and this in many traditions represents wisdom and renunciation, eg. 'danda' (Sanskrit) of a Sanyassin, 'danda' (Sanskrit) is also a punctuation mark with the function analogous to a 'full-stop' which is appropriately termed, a period in English grammar. The Fool is both the beginning and the end, neither and otherwise, betwixt and between, liminal.

The number 0 is a perfect significator for the Fool, as it can become anything when he reaches his destination as in the sense of 'joker's wild'. Zero plus anything equals the same thing. Zero times anything equals zero. Zero is nothing, a lack of hard substance, and as such it may reflect a non-issue or lack of cohesiveness for the subject at hand.">

Yeah, that's Talon for damn sure! Thank youuuuu, Mary! <3
Chapter 9 - Still Alive - Page 10
November 22, 2010
JEEZ, Talon--would it kill ya to show a little gratitute? I mean, he only tried to BURN YOU ALIVE once. Ahem.
Thanksgiving here in the States is approaching fast, I'm unsure about an update Monday. I will also be taking the first week of December off from both tWoW and What it Takes to catch up on commissions again. I keep getting requests for more commissions, especially website-related ones, so I'm going to reiterate what is already on my comission page: commissions are CLOSED for the time-being. I can barely keep working on the ones I've agreed to do already. Commissions may open up again come January, but I'm unsure. I will announce here (and everywhere, really) should they open back up. Thank you all for your continued patience!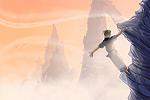 Anyway! The December wallpaper is now available in the store for the painfully low price of $1.50. It features Colbey and Peter (From What it Takes) having a tender, smack-talk, moment on a park bench. This wallpaper will only be available until December 15th, and then it's gone for good! And while I'm talking about this, if you're not reading What it Takes already, now is a great time to start! ;) And, of course, if you like What it Takes, The Webcomic List Awards are in their nomination round! If you are eligible to nominate (being a comic creator yourself, or something equivalent), I'd really love nominations for Best New Comic of 2010!
You can also click here and "vote" for The War of Winds/What it Takes to see a close-up of the wallpaper for sale in the store, with amusing dialogue. You can vote for as many comics as you want each day, just once per comic per day.