Chapter 9 - Still Alive - Page 8
November 7, 2010
Aaaand we're back. Sorry for the week off. I had other work to do and was out of town. If you checked the site and were wondering what was up, that's my story and I'm sticking to it. If you weren't aware of it before, I do have an
RSS
feed, so you can keep up with what's going on--especially for those people who never check the homepage.
In other news...ZOMG. It has been over three years since the main character of this comic was awake and coherent. Sure, we've seen him bleeding out his eyeballs and thrown over peoples' backs, but no bright-eyed, bushy-tailed Talon in years! I can only say that script writing skills are so phenomenal that no one noticed. .... ....AHEM coughcoughcoughhackhackwhatever.
I finally got off my butt and finished a new map of Tsa-ru'c (the world of this comic). It's up on the world page. Warning: the image is LARGE. And contains spoilers. Bewaaaarrre! The previous, unfinished, partially- interactive map is down. I've come to grips with the fact that I'll never finish it. Ever. The images that it linked to can now be find in their respective descriptions on the world page however (Gan-go, Sanlaga).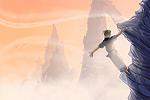 If you haven't checked it out, stuff is for sale at reduced prices in the store. I'm trying to get rid of inventory, and hey, Christmas isn't that far off! Also, it's November, and that means the perty desktop calendar I made would be PERFECT for you. It features Rahn, the West Wind, and is the final wallpaper to feature Winds. Available in many sizes, click the thumbnail to read more about it! It's gone Nov 15th!