No Comics This Week
November 3, 2010
Taking the week off from comics to catch up on some other work. The War of Winds returns November 8th!
Chapter 9 Part I - Still Alive - Meanwhile...
October 25, 2010
Hey y'all. I'm supertired, so I'll make this short.
New archive design. Optimized for 1280w or wider. Smaller resolutions or those who do not like to expand browsers will get horizontal scroll, but comic and important stuff will always be visible on the left side without horizontal scroll. Got sick of designing a site optimized in a size <10% of visitors here still use. Press control and "-" in firefox to see how it would look in larger resolutions. If you can't stand it, the old design is still up and functional here.
November is almost here! How about replacing your desktop image with a new wallpaper? Here's one of the West Wind, Rahn, complete with a mini calendar. It's available for a suggested donation of $1.50, which means you can input less, or hey, more. Some people have tried to send me donations through paypal, which I have immediately refunded. I accept tips on commissions, but no freebies. I am A-OK with people purchasing an image for a price they deem adequate though. Next month will probably feature Colbey from What it Takes, my other comic.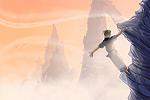 Christmas is also just around the corner, and I've got some perty posters I want gone. Did I mention they are half off? Details in the store!