Chapter 9 - Still Alive - Page 15
January 10, 2011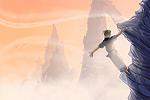 OMG I'm exhausted, so I'll keep this short and mostly copy/paste.
Vote TWC
to see a piece of the new wallpaper available in
the store
! It features Ian on the Sacred Isles. And it was totally NOT inspired by a newfound love of climbing. Nope. Not at all.
In more important news than my personal whining, Colbey (from What it Takes) will be participating this year in the Comic Creators Alliance against human trafficking! Here's a message from Lora Innes, the major force behind the CCA:
What is Human Trafficking? Human Trafficking is a sanitized term for slavery. There are over 27 million people enslaved in the world today, and most if it is young girls being sold into forced prostitution--both over seas and yes, in the United States. In the United States there are only 39 beds at facilities for victims in the entire nation--and at least 16,000 people being trafficked into the US from other countries each year! Not to count the domestic victims already living here.

The money that the CCA raised last year was split between two organizations, one global--Love 146, and a local shelter trying to get up and running--Gracehaven in Ohio. (Toledo, Ohio is one of the largest trafficking hubs in the U.S.) Both organizations were able to expand their particular fights against this heinous problem in 2010. Love 146 is setting up Task Forces around America, local groups of concerned citizens bringing the fight and awareness to their own corners of the nation. Internationally, Love 146 set up the Cambodia Border Officers Project. This is total prevention: officers patrol the border crossing, looking for possible victims and the kids they rescue will never know the horrors they might have. Gracehaven used our funds in the ongoing renovations that are necessary to bring the house up to code--plumbing and air conditioning were installed, along with two new bathrooms. They hope to be up and running soon but must first have six months of operating expenses in the bank. They are currently at one fifth of their goal--let's see what we can do to help them!

The Donations Drive goes live January 11th on National Human Trafficking Awareness Day and will last for 2 weeks.
Regarding today's page, I think that's the most panels I've drawn for a very long time. Talking heads. Moving it along. No need to drag out a loving conversation between Talon and Ravar.
We're trying to get an RP going again in the forum, go here to check it out.
Three pieces of fan art have been moved to the gallery page, so the comments are off! Just FYI.
Comment Replies
OctoDude: I am suddenly creeped out at the thought of life's invisible hands feeling me up. Thanks, dude! :P
Xanthine: The jury is out. We'll see if Talon can even make it in one piece to the privy!
Darwin: He's all bark, no bite! Thanks!
Mvmarcz: 0___________________0